For most Canadians, their most valuable asset is their home. And yet too many have only a vague understanding of the insurance policy that covers their house and contents. Unfortunately, many find out too late — when they have an expensive claim denied — that their understanding of their policy is based more on misconceptions than on fact. The P&C experts from Desjardins Insurance would like to help you by clarifying some of the common misconceptions about property insurance.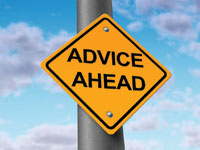 Misconception 1 - Your home insurance will cover any type of major loss.
The typical home insurance policy will cover a fire loss, as well as damage caused by lightning, windstorms, hailstorms and even tornados. However, damage from earthquakes is not covered by standard homeowners' insurance. You can purchase special coverage, though the cost can vary considerably depending on the risk in the area where you live. Not surprisingly, earthquake coverage is more expensive in Vancouver than in Winnipeg. Standard homeowners' policies in Canada also exclude flood damage. However, policies generally cover other kinds of water damage, for example from a broken water main on the street or a burst pipe in a house.
Misconception 2 – I will receive full market value for my house if it burns to the ground.
The value of a home insurance policy is usually based on the cost to rebuild the house, not to sell it on the marketplace. Replacement costs will include the material (lumber, roofing shingles, siding material, carpet, drywall, etc), the labor costs, architectural services and so on. It is important if you do any renovations or additions to your home, that you let your insurance company know, as this could change the replacement cost of your home.
Misconception 3 – I will automatically get full replacement value for any personal belongings that are damaged.
No, depreciation would be factored in, which could reduce the value considerably unless you had optional replacement-cost coverage. In that case, you would be able to replace the item with a new one with the same or similar features. In addition, valuable items such as jewelry or artwork are usually subject to a payment cap, unless additional coverage is purchased.
Misconception 4 – Renters who don't own any fancy stuff don't need insurance.
Not true. You'd be surprised how much it costs to replace even basic contents, such as furniture, kitchen supplies, clothing, and electronics like computers, TVs and cell phones. Plus, you need to ask yourself if you could afford to rent a hotel for a few weeks if your apartment needed major repairs. If not, then tenant insurance is a must. This insurance protects your property and also covers you in case you accidentally cause damage to the property of others. It's simple, affordable and definitely necessary.
www.newscanada.com
If you are Selling or Buying a Home in Calgary Contact Lawrence today!