Do you own a loft or a bachelor aprtment condo? This is a great idea on how to make your space more private! What a great and innovative Idea this is. There is even room for your pets!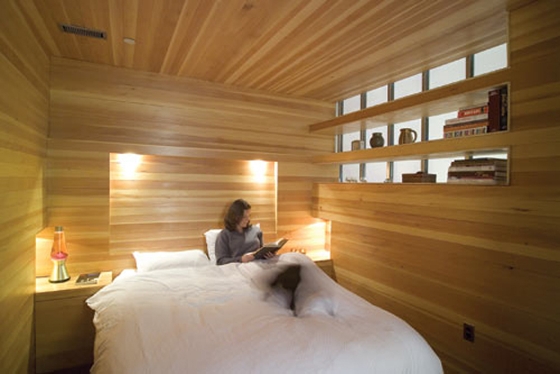 Stand-alone room includes extra storage space and pet sleeping quarters.
In order to make the most of their limited floor space in the city, urban dwellers often have to come up with creative ways to hack their space. For those living in loft apartments, Dan Hisel has come up with the Z-Box, a stand-alone bedroom that serves as a room divider and additional storage space. The idea can also be put to work in studio apartments, and other spaces with open floor plans.
Z-Box features a simple design made from 12 pieces that can be rolled through even the smallest of apartment doors. Built with a translucent shell and Douglas fir frame, the free-standing bedroom is easy to assemble on-site. The finished cube measures just 12-feet-across and 10-feet-tall, and would look just as good tucked away in the corner as it would on display in the middle of the room.
On the inside, which looks like an extremely comfortable private cave, there are bedside tables and plenty of shelving for personal items. The outside is also equipped with some shelves to increase the amount of storage space, and even a nook which is perfect for pets to spend the night.
While the idea is sound, the only limitation was the original price tag, a mind-boggling $18,000. For anyone who owns a loft worth hundreds of thousands of dollars, that doesn't present much of a problem, but for those who want to maximize their space, and money, it prices them out from the get-go.
Technically, the new prefabricated version shown in the video below is the Z-Box 2, but it's unclear how much the latest iteration costs. DIY experts and those with creative friends could probably re-create the design for less, but unless version 2.0 is significantly cheaper, it still prices out a lot of people. There is definitely a lot of scope for other designers and companies to capitalize on the idea and put something on the market that will help those whose budget, and floor space, are already stretched to their limits.