What does it mean when a Realtor talks about doing a CMA for you?

A CMA or Comparative Market Analysis is the how the listing pricing of your home can be determined. To correctly determine the current market value of a home takes lots of practice and a great deal of experience. There quite a few pieces to the puzzle that make up a good CMA!
An experienced and knowledgable Realtor should take many things into consideration when completing their CMA on a property. If a Realtor can have complete confidence when completing a CMA for a seller on what the value of their home is after walking through your home for just 10 minutes, you may want to reconsider using that Realtor for the position of selling your home! A great Realtor will analyze and mark down all of the data collected in the walkthrough of your home very thoroughly. In doing this the Realtor will be able to give you a more accurate price so that your home sells within a couple hundred to a couple thousand dollars of Realtors suggested list price! The days on the market will also decrease thus allowing you to sell your house faster. Remember a listing that sits on the market longer is harder to sell, and can wind up selling for less than market value.

Statistics have shown that...
Fair market value pricing will enable you to reach 95% of the buyers searching in your homes criteria.

Just 15% above fair market value will decrease your buyer pool to 20%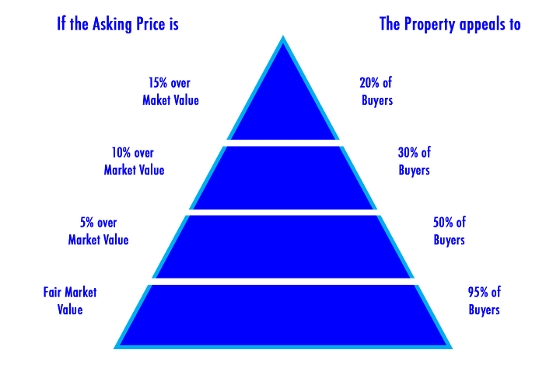 With this in mind, it shows just how important it is to have your house priced right.
An Experiences Realtor should take into consideration the following when completing a CMA for your home.
Active Listings

Pending Listings

Sold Listings

Expired, cancelled, withdrawn, and off market listings
What to look for in a CMA Report
Similar square footage

Similar age and construction type

Similar amenities and upgrades

Similar location
A comparative market analysis will make the process of pricing your home easier. Once your home is competitively priced, the odds of selling in a timely manner increase exponentially.