Mahogany Real Estate
In the city's vibrant and growing southeast, a community like no other is coming to life.
Centered around Calgary's largest freshwater lake, in Calgary's most complete new community there will be an extraordinary mix of homes, unique shops, restaurants, 265 acres of parks, wetlands and countless public open spaces and friendly streets to explore.
Mahogany Lake
Mahogany Lake is a private, three-part lake that connects to all six of Mahogany's residential neighbourhoods. At 84 acres of combined lake and beachfront (63 acres of lake), Mahogany Lake will be the largest freshwater lake in Calgary and will boast more beach area than any other lake community in Calgary. The lake itself is also uniquely designed, as it includes two distinct residential islands and is crossed in two places by bridges – both of which will provide exceptional views of the lake.
The Residentai Development
13-acre Central Park 74 acres of naturalized wetlands
10-acre off-leash dog park Events and performance areas
Gardens and picnic areas 30 neighbourhood parks and playgrounds
Sports fields and central tennis courts 22 kilometres of community pathways on
Four 16- storey multi-family buildings 3 elementary schools and 2 junior high schools
Take a tour of the Wetlands
84 acres of lake and beachfront
Distinctive 3-part lake design
Two unique residential islands
2 private beach areas
Inviting residents' beach club
10 timeless architectural styles
74 acres of naturalized wetlands
Over 265 acres of open space
30 scenic neighbourhood parks
13-acre central park
22 km of community pathways
Unique Urban Village
Search All Homes for sale in Mahogany Now!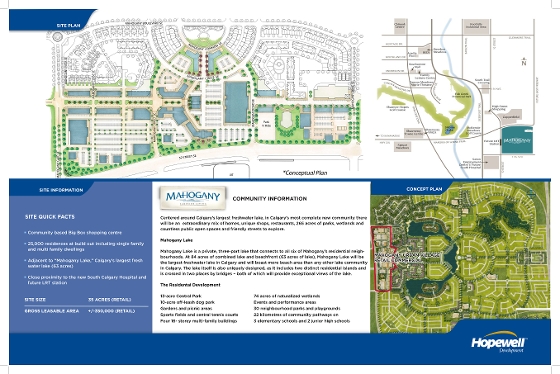 If you are interested in more information on buying or Selling a home in the Community of Mahogany Please contact Lawrence today, he is the expert in Mahogany Real Estate.